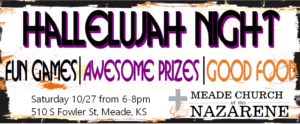 Preregister for Hallelujah Night below!
***IF YOU'RE READING THIS OUR WEBPAGE FOR HALLELUJAH NIGHT IS STILL UPDATING. CHECK BACK AGAIN SOON FOR THIS YEAR'S DETAILS! ***

Registering your child gives them a chance to win one of the prizes below. The drawing for these prizes will be during morning services at MCN on Sunday, October 28 and the winners will be notified.